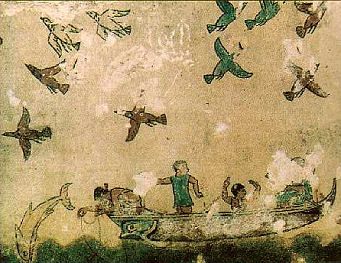 I am excited to share that our next exhibition will comprise artworks that will be created from borrowed stories. Through this process of asking, listening and creating, we will be involving our community members in our artmaking, which is one of our goals as an artist group. These artworks will be shared during the first week of October, 2021.

"There's always room for a story that can transport people to another place." –J.K. Rowling

Cellular Reveal
Rebecca Sharp
Oil on canvas 
12″ x 12″ 
This painting speaks about borrowing from our future self, learning from that self and also relaying information back to our future.
Borrowed
Belgin Yucelen
Mixed media on paper
6″ x 6" , each
"Borrowed" is a melange of long forgotten memories and reimagined impressions. The paintings allude to a winter day my daughter imagined to be my grandmother's last day in Romania before she migrated to Turkey. I borrowed my grandmother's story, dimmed behind a lifetime of 94 years, unveiled by my daughter's beautiful imagination.