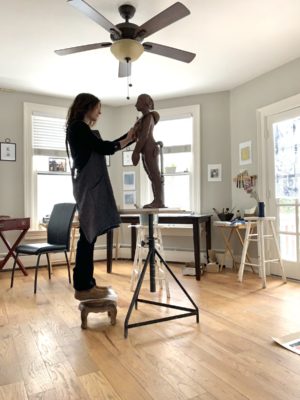 Sculptor I Printmaker I Installation artist
Belgin Yücelen is a Turkish-American artist. While enhancing our imaginations and consciousness, Belgin Yücelen's art remains true to the desire to create meaning and beauty in subtle simplicity. With her installations, sculptures, films and prints, she asks the questions of who we are and where we are going so that together we can achieve basic human wisdom. She is also interested in challenging imaginations by creating a fictional world beyond the existing, to conjure unrealized possibilities. Traces of her years in Turkey appear in her artwork placing it at the fascinating edge where East and West meet and ancient and modern coincide. She has been recognized by organizations such as the Colorado Creative Industries, Moon and Stars Project Grant, Clark Hulings Fund, Hemera Foundation, and National Sculpture Society. She founded House of Serein in 2019 as a creative space for community use and studios for artists in Boulder, CO. She is currently serving as a board member at the Dairy Arts Center and as a grant panelist at the Boulder Arts Commission.
She is the founder of the "House of Serein" which is a creative space designed for community use and studios for artists and freelancers in Boulder.
To see more of her work please visit her web site https://belginyucelen.com/
To reach her, please e-mail byucelen@gmail.com