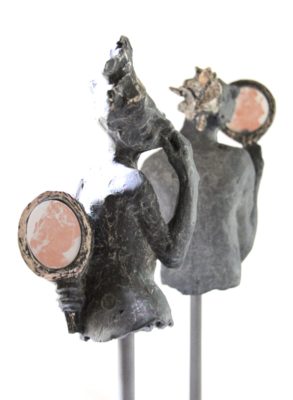 Sculptor I Printmaker I Installation artist
Belgin Yücelen is a Turkish-American artist creating sculptures, installations, movies and prints intending to enhance our imaginations and consciousness. At the powerful intersection of art and activism, she speaks out on behalf of children in war, women with no rights, and refugees. She also talks about current social and global issues such as the replacement of the traditional ways of communication by technology mediated human-to-human interaction and climate change.
She is the founder of the "House of Serein" which is a creative space designed for community use and studios for artists and freelancers in Boulder.
She is a recipient of grants including the 2019 Colorado Creative Industries Career Advancement Grant, 2018 Moon and Stars Project Grant; 2018 Executive Level Clark Hulings Fund, 2018 Kristal Martı award by KALID in Istanbul; and the 2017 Tending Space Fellowship for Artists by Hemera Foundation. She is also a National Sculpture Society elected member. Her work was publicized in the PhotoPhore, Fort Morgan Times, Pittsburgh Articulate, The Tribune Review, Les Femmes Folles, the Daily Camera, Chicago Reader, The Examiner and Reporter Herald.
To see more of her work please visit her web site https://belginyucelen.com/
To reach her, please e-mail byucelen@gmail.com